Prayer & Confession of Salvation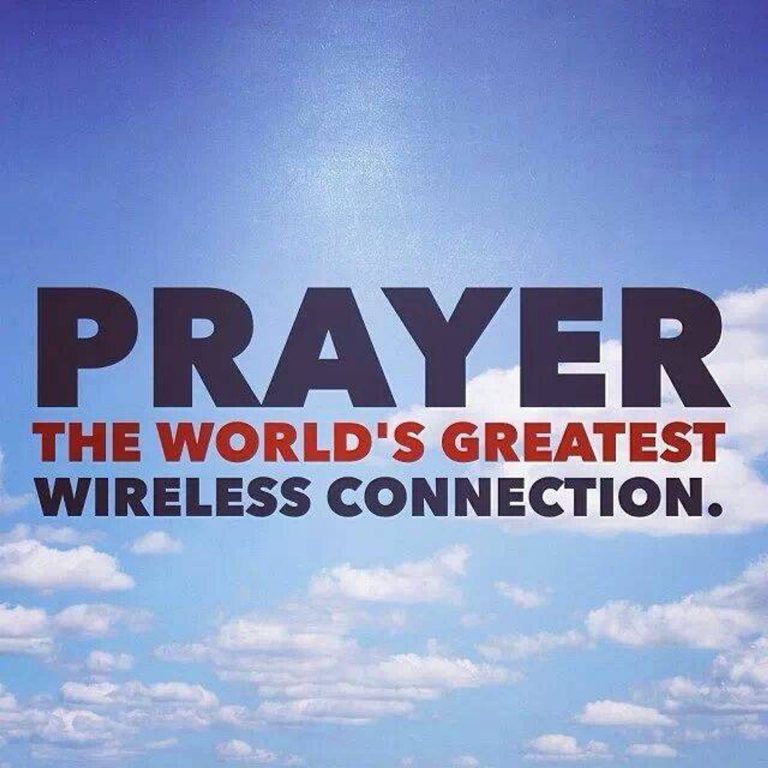 If you desire to receive Jesus Christ, the Son of the Living God, into your heart as your Savior and Lord for the forgiveness of your sins, justification and restoration back to our heavenly Father God I want to invite you to pray this prayer with me. Pray saying, Almighty God please forgive me of my sins, wash them all away, and come into my heart today. I believe that Jesus Christ is your begotten Son, and I receive Him as my Savior, Lord and King. Change my heart and fill my life with Your presence God. I need you and I'll serve you for the rest of my life. In Jesus name, Amen.
If you've prayed this prayer from your heart you've been born again, and you are a child of God. Now, we want to encourage you to write us and let us know that you've just prayed the prayer of salvation so that we can rejoice with you. Glory to God! "For God so loved the world that He gave His only begotten Son, that whoever believes in Him should not perish but have everlasting life. 17 For God did not send His Son into the world to condemn the world, but that the world through Him might be saved." John 3:16-17, NKJV
We encourage you to share your prayer requests with us and make them visible on the prayer wall so that everyone can pray in agreement with you as the body of Christ globally. Please share the Prayer Wall with others so that they can submit their prayer requests as well. God bless you.
"Praying always with all prayer and supplication in the Spirit, and watching thereunto with all perseverance and supplication for all saints;" Ephesians 6:18, KJV
This Prayer has been answered!
J D Smith received Nov 15, 2022
Testimony/Praise Report: I had shared several months ago that the Lord favored me through the VA to receive a new laptop and printer to assist me in job searches after graduation from seminary. From late June into September 2020, I had sent out over 66 resumes to Churches, Hospitals, Hospices and various other Ministries all across the Southeast and even the nation, without even hearing a whisper back. Apostle Stan and Beth faithfully kept me lifted up in prayer and spoke words of encouragement and wisdom/guidance to me. On 24 August I received an email from a Home Hospice organization in Florida that needed a Chaplin, I had applied to them in July. We arranged an interview on 28 August, as it turned out, I was interviewed twice in two different cities, that day for the position. The first interview was with the division director and one of her Chaplins, she then called the office manager in the city in which I would be working to be interviewed by that manager and one of her Chaplins. On 9-11-2020 I was notified that they wanted to hire me with a starting pay of 46K per year with full benefits. I began training on 5 October with a 120 mile commute one way equaling 240 miles round trip daily - this does not include the miles I had to drive to each patient's home. On 13 October, barely a week on the job, my car's transmission failed on the way to work. Thank God it did not seize as I cruising at 70 mph on the interstate. I was 60 miles from home and work in the middle of nowhere. I had to call for a tow which costed $300.00 and this was before my first payday. Once safely off the roadway, I decided to follow what I learned through Apostles Stan and Beth via the Word of God and I began to praise God and declare my faith and trust in Him. I was already house hunting and then found myself car hunting to boot. I prayed for favor being a new hire within my probationary period and received it not only for that day (Tuesday), but for the following Thursday to go to Mobile Alabama to purchase a another car as my broken car was nearly 21 years old and not worth sinking $3,000 into it for repairs. A friend gave me a ride to Mobile, we test drove the car. It ran fine although I found some areas of heavy rust under the hood, the salesman said it was probably from the salt in the air being so close to the Gulf of Mexico - later I discovered the car had been driven in Michigan for a number of years. As we were about enter negotiations, another salesman told my salesman that the car had already been sold the night before. The others cars in my price range were either not ready or broken. But God arranged a better deal that night. I was able to qualify and buy a 2019 Toyota with less than 30K miles on it with no trade or money down. That very afternoon I was blessed to find a 3 bed and 2 bath house with an enclosed garage and excellent condition for $695.00 per month. The house is 34 miles from my office. I applied for it and was approved on 19 October and am beginning to move in today - 25 October! God is faithful to watch over His Word and children and hear and answer the prayers of His Children. Be faithful and believe and sow your tithe and seed. Believe Him and He will come through for you as you'll praise and trust Him even in the tight and hard places.
This Prayer has been answered!
Dr. Bethtina received Jul 11, 2022
TESTIMONY!! We PRAISE GOD!! We have been praying for Mom Pettis & look at God!! "God is all powerful 😇 Yvonne Pettis was hospitalized for over 35 days fighting this cancer. She has finally been discharged. What a wonderful God we serve." ~Gina Pettis Dean
This Prayer has been answered!
Stan II received Sep 29, 2021
Testimony: I thank God for for blessing me to pass my insurance exam, and giving me an opportunity to start my career working with a great company.
This Prayer has been answered!
Toiya received Aug 18, 2021
PRAISE REPORT!!🙌🏽 Glory to God! He is faithful. We serve a marvelous and loving God. I could go on and on about His goodness. To the report: My son will be officially transitioning to California this week to continue his education and fulfill his aspirations. We have prayed for this fervently and God has moved. Hallelujah!! Also, I recently tested to receive a certification to further solidify my position in the community as a public official, and I maxed out on the exam. I give Him all the GLORY!! God will do it! Be encouraged. He is causing all things to work together for your good. God bless you.
This Prayer has been answered!
Dr. B. Williams received Jul 27, 2021
PRAISE REPORT!! Pastor Steen is up and back in Ministry with his family after undergoing major open heart surgery. God has restored him back to health. Let's continue to it him up in our prayers. Thank you so much for your powerful prayers starting back in May and throughout. They have made a huge difference! To God be all the glory!
This Prayer has been answered!
Dr. Bethtina received Jul 9, 2021
PRAISE REPORT & TESTIMONY!!! DEBT CANCELLATION!!! I received a letter in the mail in which an almost $10,000 hospital debt was cancelled. I had just been in prayer with my prayer team and God put a strong sense in my heart to release a word about supernatural debt cancellation. I had no idea that it was for me, because I was ministering with others at heart, BUT GOD DID IT, and I am absolutely thankful.
This Prayer has been answered!
Toiya received May 29, 2021
PRAISE REPORT GOD is GOD! In a recent prayer request I entreated prayers on behalf of my mother....God is moving. She has recovered from her previous state and is continuously making strides in her therapy progression. Thank you to: the people of God, Apostles Stan and Beth Williams, and the intercessors and prayer warriors. Our prayers are not in vain. Let's continue to invade heaven in order to impact earth with our praise and worship and continual intercession. God bless you!
This Prayer has been answered!
Micheal received Jan 26, 2021
PRAISE REPORT: Shari was found safe! Glory to God!! Thank you for your prayers.
This Prayer has been answered!
N. Rodriguez received Oct 25, 2020
Testimony : I am so thankful for God blessing me with a new job opportunity. I have been looking for a job that flexible with my schedule since the summer. Not only did He bless me with a job, He blessed me with the one I wanted! Do not let anything discourage you from what you want. Keep praying and believing and He will hear your prayer!!
This Prayer has been answered!
Brenda M. received Oct 14, 2020
UPDATE! Today Dave had an appointment with a neurologist. I wasn't sure what to expect, but it was a pleasant surprise. While he told us that Dave had experienced significant damage to the brain, something no one else had told us, he said he saw much improvement. The testing they did came out with "normal" results -- you did read that right--NORMAL! NOW that is not to say he is 100% yet, but the Dr said that he believes he will be back to 100% eventually. He has another MRI on Friday. I pray that the areas of the brain that showed oxygen loss and are "white" on the pictures, will now be back to "black" meaning repaired. One area that he is noticing most is with his eyes. Please everyone, pray for his eyes to have significant improvement. Thank you all for your fervent, steadfast prayers. God is listening and answering. We love you!
This Prayer has been answered!
Nikki received Sep 13, 2020
Praise Report: I just wanted to take this time to thank God for His faithfulness, and his mercy. He has brought my mother through Covid 19. She didn't suffer with it. She just lost taste and smell. She had a light fever and that was it. I thank God for keeping her and my family through it all. Some brought food by and blessed us financially during our time of quarantine. Thank you Apostles and everyone who prayed for us. I love you in the Lord. God bless you!
This Prayer has been answered!
Constance received Sep 12, 2020
PRAISE REPORT Miracle Housing in 7 days Moved in on the 8th day! Husband recovered and speech restored from mini Aphesia stroke. Daughter delivered from Abusive boyfriends and repented. Grand daughter delivered from wrong friends and Hearing and obeying GOD s Call on her life. Glory to GOD HALLELUJAH!
This Prayer has been answered!
Toiya M. received Aug 18, 2020
PRAISE REPORT!!! We serve a God who is able to do exceedingly and abundantly above all we can ask or think.(Eph.3:20) He is not only the supplier for our needs, but He's the provider of our wants. My son had been believing God for his acceptance into a very competitive, high standing learning institution, and there was also the weight of securing funds to finance his goal. God supernaturally fulfilled both of his petitions. We give Him all of the glory and praise! He will make a way in the desert!🙌🏽 I pray this encourages you.
This Prayer has been answered!
Stanley W. received Jul 15, 2020
TESTIMONY - God is truly amazing, He is healing me right now. January 4th 2019 I was diagnosed with stage 4 colorectal cancer. It spread to my liver and my lungs. As of today my colon and liver are clear of cancer there is still small spots on my lungs. I am covered by the blood of Jesus and I will never forget the never twins: Never give up and Never give in. I would for everyone to pray for me and I will pray for you. God bless
This Prayer has been answered!
Stanley II received Jul 14, 2020
TESTIMONY - I have a testimony about how God blessed me this week to get my car fixed for much less at the dealership than anyone else was going to charge me. I didn't have to pay anything except the small deductible for a job that would cost at least $500. I thank God for blessing me to get it fixed for only $100.
This Prayer has been answered!
JD Smith received Jul 12, 2020
TESTIMONY - Testimony of God's goodness and faithfulness: In May 2020 I graduated from seminary through the VA VOCREHAB program. As a grad of this program I am required to be actively searching for a ministry position. My computer the VA initially issued me in 2014 has lost it's electronic mind and also garbages up my resume. This prevented me from being able to successfully search ministry opportunities and post my finally corrected Resume. When my VA employment counselor found out my difficulties he immediately coordinated with my VA educational counselor to have the computer repaired at no cost to me. But, God had something better in mind. When my education counselor called me he said he would be unable to have the laptop repaired due to it's age. So, he said I qualified to have New laptop and Printer issued to me in order to find ministry employment - all with no cost to me. The new system will arrive to my doorstep tomorrow ( 13 July 2020)! This Blessing was totally unexpected by me. I had prayed for favor and help and boy howdy did God ever come through! I pray this blesses not only God, but would encourage my brothers and sisters in the faith to trust Him, believe Him, and simply take Him at His Word! Shalom to all - 2 Corinthians 13:14.